If summer vacation had a tagline or motto, it would say:
Summer Vacation: Great for Fun, Bad for Blogs.
I'm quickly sensing that near-weekly posts will be the name of the game; hopefully that will be enough to keep everybody reasonably up-to-date and keep my future self mindful of what I've been up to.
The main event, of course, was Robin's graduation. I spent quite a bit of time gearing up for the post-ceremony party at Jaqueline's, which filled the latter days of last week to nearly overflowing. Then Friday evening came and it was time to step out, to head to Rum Runners in Lansing for a TE interns party, which was pretty fun. I was leery of dueling pianos in this setting as compared to Smiles in Savannah, but it turned out pretty well and they played some good stuff, including a Ben Folds number. Color me stoked.
Saturday started mega-early, which was seeming pretty normal, but got everybody to the arena on time. University commencements are pretty droll stuff, but we got our 15 seconds of fame when Robin walked, which rocked. From Breslin we made our way through the fog to an amazing spread at Jaqueline's...lunch and afternoon snacks and then an all-afternoon family gathering.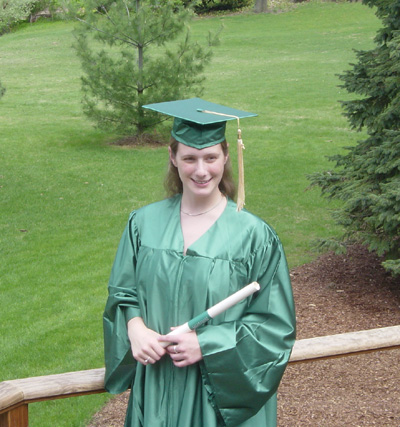 Later, Jenelle and I joined the youngest friends of Robin's at The Parlour for a celebratory ice cream dessert that none of us needed.
Sunday was a busy one, but not for me. My immediate family had a final lunch in East Lansing before the other three departed for points north; Jenelle and I headed to Ann Arbor and had a Klondike bar and a swim and a walk around campus and crashed early.
Today was all about a trip into town to take care of a few errands, a meeting at the department, another swim, and a nice summer picnic dinner held inside as the cool night air gathered round.